20th Century writer Max Eastman once said that a smile is the universal welcome.
Office lobbies and other reception areas – similarly – are the equivalent of not only a smile but also a firm handshake. They are often a company's first and best chance to greet visitors and to let them know how valuable their patronage is to them.  The design and layout of your office lobby and other reception areas are vital to your business. This is why so many b
usinesses are choosing to incorporate the designs of Mies Van Der Rohe – a German-American pioneer of modern architecture – to their lobbies and reception areas.
After all, Van Der Rohe was one of the pioneers of modern architecture who married traditional materials – like leather – with modern materials such as chrome. This fusion of the traditional and the modern is how many businesses wish to depict themselves with their customers. They wish to convey the idea of solid business principles wedded with a modern approach to technology, communication, etc. This unique and exciting blend  is reflected in the Mies Van Der Rohe Barcelona chair and table. Bauhus 2 Your House has Marsiglia Lounge Chairs that are inspired by Mies Van Der Rohe furniture. The simple yet elegant style fuses modern and classic designs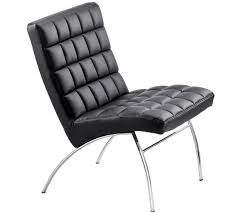 in a manner that would have pleased the pioneer architect who cherished simplicity and clarity as two of modern furniture's virtues. Your goal can be the same as you show clients that they are welcomed visitors to your business.